Posts for category: Oral Health
By Midwest Smiles Family Dentistry
April 25, 2021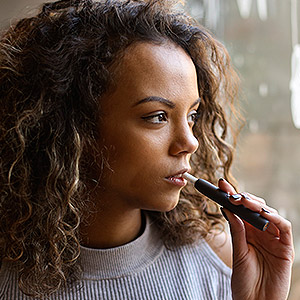 It wasn't too many years ago that e-cigarettes were promoted as a healthier alternative to traditional cigarettes. "Vaping" was in and "smoking" was out.
But vaping's recent link with certain lung disorders, especially among younger users, has slowed the promotion train down considerably. And if respiratory health isn't enough, there's another reason to be wary of the practice—it's possible effect on oral health.
An e-cigarette is a handheld device with a reservoir that holds a mixture of water, flavoring, nicotine and other chemicals. The device heats up the liquid to transform it into a vapor that's then inhaled by the user. Technically, the vapor is an aerosol, a gaseous substance containing solid particles from chemical compounds.
Within this aerosol are a number of ingredients that can have a harmful effect on your teeth and gums. Foremost among them is nicotine, a chemical that's also a major ingredient in regular tobacco. Nicotine causes constriction of blood vessels, including those supplying the teeth and gums.
As these vessels constrict, they deliver to the teeth and gums fewer nutrients and antibodies to control infection. As a result, users of nicotine products, whether tobacco or e-cigarettes, will have a compounded risk for dental disease over a non-user.
E-cigarettes may in fact be worse than regular cigarettes in regards to nicotine. Cigarette nicotine is primarily inhaled into the lungs, while e-cigarette nicotine is absorbed by the mouth's mucous membranes, a much more efficient transfer. It's estimated that the amount of nicotine in one e-cigarette cartridge equals the nicotine from 20 cigarettes.
Nicotine isn't the only ingredient in e-cigarettes that could harm your mouth. Chemicals within the flavorings can irritate and dry out the mucous membranes of the mouth, as well as damage tooth enamel. There are a variety of other chemicals present like formaldehyde that could raise your risk for oral cancer.
Rather than a healthy alternative to smoking, e-cigarette users may simply be trading one form of health risk for another—and, in the case of your oral health, just as bad or worse. The best alternative for healthier teeth and gums is to leave both habits—smoking and vaping—far behind.
If you would like more information on vaping and oral health, please contact us or schedule an appointment for a consultation. You can also learn more about this topic by reading the Dear Doctor magazine article "Vaping and Oral Health."
By Midwest Smiles Family Dentistry
April 15, 2021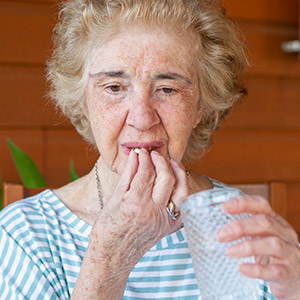 Osteoporosis is a serious bone weakening disease in older adults that can turn a minor fall into a major bone fracture. But the condition could also impact dental treatment—triggered ironically by the drugs used to treat osteoporosis rather than the disease itself.
From the Latin for "porous bone," osteoporosis causes bone to gradually lose mineral structure. Over time the naturally-occurring spaces between mineralized portions of the bone enlarge, leaving it weaker as a result.
Although there's no definitive cure for osteoporosis, a number of drugs developed over the last couple of decades can inhibit its progress. Most fall into two major categories, bisphosphonates and RANKL inhibitors.
These drugs work by inhibiting the normal growth cycle of bone. Living bone constantly changes as cells called osteoblasts produce new bone. A different type, osteoclasts, clear away older bone to make room for these newer cells. The drugs selectively destroy osteoclasts so that the older bone, which would have been removed by them, remains for a longer period of time.
Retaining older cells longer initially slows the disease process. But there is a downside: in time, this older bone kept in place continues to weaken and lose vitality. In rare instances it may eventually become detached from its blood supply and die, resulting in what is known as osteonecrosis.
Osteonecrosis mostly affects two particular bones in the body: the femur (the long bone in the upper leg) and the jawbone. In regard to the latter, even the stress of chewing could cause osteonecrosis in someone being treated for osteoporosis. It can also occur after tooth extractions or similar invasive procedures.
If you're taking a bisphosphonate or RANKL inhibitor, you'll want to inform your dentist so that the necessary precautions can be taken before undergoing dental work more invasive than routine cleanings or getting a filling or crown.  If you need major dental work, your dentist or you will also need to speak with your physician about stopping the drug for a few months before and after a dental procedure to minimize the risk of osteonecrosis.
Fortunately, the risk for dental problems while undergoing treatment for osteoporosis is fairly low. Still, you'll want to be as prepared as possible so that the management of your osteoporosis doesn't harm your dental health.
If you would like more information on osteoporosis and dental health, please contact us or schedule an appointment for a consultation. You can also learn more about this topic by reading the Dear Doctor magazine article "Osteoporosis Drugs & Dental Treatment."